Did You Know?
According to the American Heart Association(AHA) almost 90 percent of people who suffer out-of-hospital cardiac arrests die. CPR, especially if performed in the first few minutes of cardiac arrest, can double or triple a person's chance of survival.

Register for a CPR class at one of the many convenient locations. Please feel free to view the schedule and register online, or call us at (909)464-2299 .


For Those Attending Classes, Please Note:
Professional attire/scrubs are expected to be worn when attending any course at any location.
Hospitals may charge for parking. Please contact the hospital directly for specific parking information.
Please arrive 15 minutes prior to a course's start time for registration.
Interested in online


CPR, ACLS, or PALS?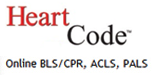 For more information
To request a course

Please choose your region