Classes
« Class Detail
Class Detail
ENPC - Emergency Nurse Pediatric Course
The Emergency Nurses Association Provider number for the California Board of Registered Nursing is Provider #2322

For RN's only: ENPC is a 16-hour course designed to provide core-level pediatric knowledge and the psychomotor skills needed to care for pediatric patients in the emergency setting. The course presents a systematic assessment model, integrates the associated anatomy, physiology and pathophysiology, and identifies appropriate interventions. Triage categorization and prevention strategies are included in the course content. ENPC is taught using a variety of formats, including lectures, videotapes and includes skill stations that encourage participants to integrate their psychomotor abilities into a patient situation in a risk-free setting.
Course Highlights include:
Performing a systematic triage assessment.
Completing an observational or across the room assessment.
Identifying subtle changes that indicate a worsening condition.
Helpful hints and tricks for pediatric care
Cultural considerations in pediatric care.
Pain management in children.
Techniques for interacting with the child and family.
And more...

ENPC Practice Test suggested prior to attendance at this class:
http://www.ena.org/coursesandeducation/CATNII-ENPC-TNCC/enpc/Pages/course.aspx

Contact hours are provided through the ENA.
Successful completion of the course includes scoring a minimum of 80% on the 50 item multiple choice exam and demonstrating all critical steps and 70% of the total points in the evaluated skill stations. Participants have the ability to repeat the exam or skills if needed.
Verification will be issued from the ENA with successful completion of the course. Verification is valid for four years.

The ENPC Provider Manual - 4TH Edition textbook will be utilized during this course. The cost of the textbook and any materials is included in the course fee listed as shown. If you bring the current textbook with you, to the first day of class, you will receive a textbook credit.

Please Note: Students who arrive after the 15 minute grace period will NOT be allowed to attend the course.
Professional attire/scrubs are expected to be worn when attending any Flex Ed course.

Please note processing of certificates may take up to two weeks.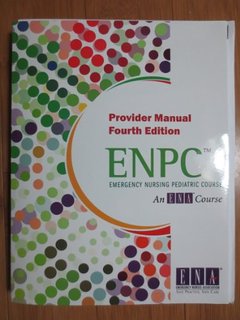 ISBN: 0979830745


Download Flyer
Dates:
Monday, January 21, 2019
Time: 7:30am - 6:00pm
Location: Flex Ed Las Vegas
Classroom: Conference Room A & B
Address: , 6440 S Eastern Avenue, Suite 100, Las Vegas, NV - 89119


Tuesday, January 22, 2019
Time: 8:00am - 6:00pm
Location: Flex Ed Las Vegas
Classroom: Conference Room A & B
Address: , 6440 S Eastern Avenue, Suite 100, Las Vegas, NV - 89119


| | |
| --- | --- |
| Course fee: | $400.00 (includes book/materials) |
To register for a class you must log in. If you do not have a Flex Ed Profile, please register here.